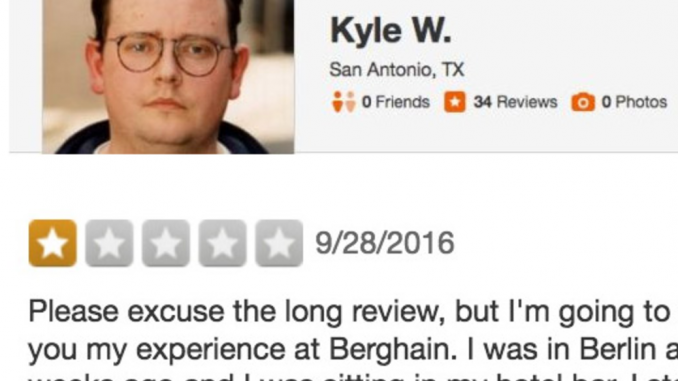 The story went viral and might be a good source of web traffic for both Yelp and the trash news magazines reporting about it. Berghain itself might not even hear about it, let alone they would ever care.
If you missed that Berghain review on Yelp, imgur was friendly enough to save it for you:
To prove it's a fake let's look at the indicators:
Profile picture of the Yelp user (https://www.yelp.com/user_details?userid=B1c7Sz6Uze6i9ftfubk9cg)

if you do a 'reverse Google image search' (just save the profile image and drag and drop it into Google's image search form) you'll find a lot of news papers writing about a pedophile being arrested
according to these articles Adam Barker is the son of Ronnie Barker and received more than 500.000 British Pounds in royalties from his father's work

Profile of the 'friend' on Yelp (https://www.yelp.com/user_details?userid=pa15T3yfRO_fsTjzefEzVg)

how the hell did they connect after this night? They would have to had connected before going to Berghain and him saying "I bet he too had a good night." – doesn't make sense in this scenario.

The review is deleted now.
There are several more indicators that the whole story was fake. The style of writing is one of them. I guess the reverse image trick does the 'un-magic' alone.
Viral marketing or trolling done the right (effective) way. Our generation seems to put entertainment over truth.